Brownsville Sign Company
View Sign Gallery
Set your business up for success with well-crafted, impressive commercial signs and graphics by trusted local sign company, Westphal Signs!
As a leading signage provider here in the Brownsville area, we take care of all aspects of your sign orders here in our local shop. We take pride in the fact that we are equipped with in-depth knowledge, up-to-date technology, environmentally friendly processes, superior quality materials, decades of experience, and an unwavering commitment to producing high-grade signs and graphics for our clients. And we are excited to deliver all this and meet your business's promotional and marketing needs.
As a business ourselves, we understand the important role your signs play in showing potential customers who you are, what your business has to offer, and why they should partner with you. And this is exactly why we at Westphal Signs want to do your signage projects. We want to promote your business through impactful signs and cohesive branding. Whatever your business goals may be, you can count on Westphal Signs to help you reach them!
Call Westphal Signs today at (920) 345-0102 for your Free Consultation with a Signs & Graphics expert!
Signs That Work For You
It's amazing how a simple high-quality sign can do so much for a business—this includes increasing average daily sales, boosting foot traffic, and even increasing workforce productivity! We at Westphal Signs are committed to helping you achieve all that. Our start-to-finish fabrication process includes a free initial consultation where we make sure that we understand your business needs, branding, and budget. Our signage specialists then provide you with the best available signage options. We provide you with the support, assistance, and professional advice that you need during installation, maintenance, and repair as well.
Here at Westphal Signs, we offer eye-catching outdoor signs, informative wayfinders, affordable vinyl signs, and a vast selection of promotional signs: flags, banners, A-frames, LED displays, etc. We make sure that you have what you need to catch attention and to keep it.
The Right Signage For Your Business
Your business is unique…and it's highly important that you have promotional and marketing materials that are capable of clearly conveying your uniqueness. Custom commercial signs by Westphal Signs can do this for you. Whether you need signage for a bank, school, clinic, retail store, office building, restaurant, government office, or any other institution, we can deliver to you signage that's personalized to meet your branding, business needs, and building requirements.
Our signs are specially designed by talented graphic artists, meticulously crafted by experienced signage experts, and strategically placed/attached by professional installers. With Westphal Signs, you get high-quality signage that shows your potential clients the high quality work that you can give them.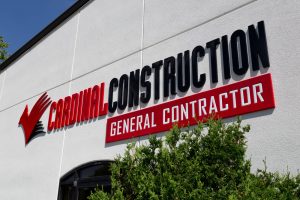 There's no arguing it, excellent outdoor or exterior signs make a dramatic impact on how people see and respond to your business. In fact, studies show that 80% of US consumers have walked into a new business simply based on its signage. Get more people in through your doors with stunning and impactful signs and graphics by Westphal Signs!
If you're looking for business visibility even from a distance, we offer pole signs, yard signs, wall signs or fascia signs, illuminated signs, etc. We also deliver customized storefront signs, window displays, door signs, and wayfinders. At Westphal Signs, we make sure that you give your market a great first impression, and we do that by providing outdoor/exterior signs that attract, convert, and retain customers.
From dimensional letters, hanging signs, monument signs, backlit channel letters, to even digital displays, Westphal Signs has the sign that your business needs to impress, impact, and inform.
Many business owners make the common mistake of overlooking just how important indoor signs can be in their business. This is a mistake because interior signs actually play a big role in converting foot traffic to sales. They get customers engaged, keep them informed, and eventually convince them to trust your brand and make purchases.
However, not all indoor signs can do this; only high-quality ones do. Your interior signs must have strategically selected types, designs, materials, and locations in order for them to make an impact. Here at Westphal Signs, we make sure that you have the perfect indoor signage to suit your unique business needs, brand identity, office layout, and your budget. We do this by providing on-site evaluations of your business, brand, and space, so that we know exactly what signage elements would be best for you. Once we know what you need, we then make our vast selection of signage options available to you.
Whether you're looking for acrylic signs, aluminum channel letters, or vinyl decals, our team of graphic artists, sign specialists, project managers, and installers is ready to assist you from start to finish.
Get your business noticed by more people in more places with stunning vehicle wraps and graphics by Westphal Signs!
We offer complete fleet wrap services for all vehicle types including trucks, semi-trucks, buses, RVs, tankers, sedans, vans, and even motorcycles. From design all the way to installation, we've got you covered. Besides adding a protective layer over your vehicles, our wraps are custom-designed to promote your brand wherever you go.
We at Westphal Signs are the go-to wraps provider for Brownsville, WI business who rely on their vehicles for identification and promotion. From food trucks to delivery vehicles, to car dealerships, and even contractors, we offer vinyl wraps, graphics, and magnets to help them get noticed.
Vinyl wraps, signs, and graphics are a beneficial supplement for your corporation of any size. If searching to find a way to captivate attention to your business, aiding buyers when they are searching for a specific department, product, or area, or want to market a promotion or sale, our crew of vinyl signs and graphics motivated professionals manufacture the perfect customized solutions for your organization.
We are an experienced complete custom vinyl banners and signs team, offering your organization with high-quality sign printing solutions, from eye-catching graphic design to installation. This means we are able to easily create all vinyl signs and graphics you need.
It doesn't matter if it's promotional window graphics, vinyl clings, floor graphics, decals, wraps, banners or any other sign, wrap, or graphic element you are seeking, our dedicated vinyl sign and graphic designers, fabricators, and installers tackle your custom signs and graphics project quickly, professionally, and with keen attention to detail.
Having been in the sign industry for a long time, we know that the only way to get a sign that truly speaks your business identity us by getting one customized just for you. By getting your sign specially designed, fabricated, and installed, you end up with a more cohesive face to your business…one that clearly conveys your message.
Besides getting your signage done exactly the way you want them, going for custom signs is also an option if you want your project to work on a specific timeframe, budget, or location. Here at Westphal Signs, we make sure to sit down with you to know exactly what your requirements, preferences, and goals are so that we can recommend, advise, and brainstorm on what signs work best for you.
Whether you're looking for a simple storefront sign, a stately monument sign, an ornate hanging sign, or even vinyl murals on an entire wall, Westphal Signs can help turn your ideas into a reality. We have been doing specialty signage for many years, so we're confident that we can create the unique signage that your business is looking for. We can design, etch, weld, burn, carve, sandblast, assemble, and install your dream sign for you.
Complete Commercial Signage Company
Not a lot of signage providers can offer the complete package and provide start-to-finish support on your project. As a full-service sign company, Westphal Signs definitely can. We do more than just print and laminate signs—we conceptualize, design, fabricate, install, replace, and even repair. Why hope from one sign shop to another when you can get everything done in one place?
Our tried-and-tested process starts with a free consultation. We are committed to fully understanding what your needs and goals are and letting you know how we can help you achieve them. This exchange early in the process allows us to come up with relevant ideas and practical advice for your project, taking into consideration your budget, location, and timeframe. Our design team then captures your concept and uses art to bring them to life, and as they do this you have complete editing control of the design.
During the fabrication process, we at Westphal Signs are dedicated to leaving as little carbon footprint as possible. We have developed and adapted business and manufacturing practices in order to achieve this. With sustainable equipment, materials, and processes, we aim to reduce material waste and conserve energy as much as we possibly can.
Our expertise doesn't stop at creating signs for you, we can also do repairs and maintenance. If you have old signs that need to be removed, replaced, or repaired, our professional signage experts are ready to help. Westphal Signs is equipped with the machinery, materials, expertise, and experience to get your signs looking good as new in no time.
If you're looking for excellent quality signage for your business, then Westphal Signs is definitely the place you should go it. We are excited to be the full-service sign company that provides all your signage needs. As an established signs provider here in Brownsville, we offer a wide selection of signage options for you to choose from…and if you still can't find one that you like, then we'll customize your size for you. If you want to know more about how our signage process works, Westphal Signs is here for you.
Our Commitment To You
As a decades-old business, we at Westphal Signs deeply know the impact a high-quality, stunning business sign makes in attracting, engaging, and retaining customers. We support your business growth with effective and attractive signage.
From conceptualization, to design, to fabrication, to installation, to repair, we are dedicated to delivering satisfaction. We are a trusted local sign company, and we look forward to providing you with all of your signage needs.
Contact Westphal Signs today at (920) 345-0102 for your Free Consultation with a Signs & Graphics expert!
GET A FREE QUOTE
If you have any questions or comments please fill out the following form and one of our representatives will contact you as soon as possible.