Dodge County Dimensional Letters
View Sign Gallery
Appealing, exciting, and charming, dimensional letters, graphics, and signs are the ideal choice for practically any organization that prefers to attract interested shoppers.
Dimensional letters, occasionally described as raised or 3D letters, are custom text or shapes delivering depth and interest to an otherwise unexciting space. Relatively easy to produce, dimensional letters and signs are molded, fabricated, cast, or cut from solid material to attain this impact.
Dimensional signs and graphics offer the perfect solution that experienced business owners desire for their brand: visibility, durability, and a irresistible appearance.
Westphal Signs can affirm that branded dimensional signs are a wise possibility for any kind of brand. It doesn't matter if you manage a Dodge County restaurant, retail store, office, salon, hotel, gas station, educational facility, etc., our eye-catching dimensional letters are sure to look good on and in your facility.
We custom produce raised lettering that is uniquely built for visibility so that they extend your marketing and advertising reach. Westphal Signs produces your custom signage using the perfect supplies that are available so after installation, they will keep building excitement and interest around your business and brand for years.
Call Westphal Signs today at (920) 345-0102 for your Free Consultation!
Appealing Storefront Signage
Appealing and intriguing, dimensional signs are ideal for your building's primary storefront sign. They supply dimension and texture for your storefront, establishing a professional and attractive appearance. The flexibility of branded dimensional letters is also very beneficial. They are normally attached straight to the front of your facility, they are equally effective when utilized into monument signs, pole signs, post and panel signs, and even message boards. Custom formed channel letters are also commonly chosen as a replacement to dimensional letters.
While 3D letters are not traditionally lighted, Westphal Signs can also incorporate backlighting, lighting fixtures, or spotlights during your sign install, so that your lettering is evident even at evening. With our custom dimensional letters, your organization attracts attention and your branding message makes a big impact, every time it is seen.
Attractive Indoor Lettering
Dimensional letters aren't merely for the outside of your business; they even give your business a more sophisticated setting as branded interior signs. When used near your waiting area, your corporate logo will be the top thing your customers and guests notice immediately when they step inside your location. Dimensional lobby, reception, and logo signs are extremely popular, and they can be fabricated using a range of durable materials and mediums, with display options like halo lighting, uplighting, or down lighting, if requested. Dimensional letters are perfect for wayfinding and they deliver a large impression in retail stores, gas stations, and restaurants.
3D letters are not solely confined to lettering either! Your new signage can consist of logos, images, numbers, or a mix of many different elements placed on the walls of your facility. Westphal Signs's skilled team of designers can assist with generating indoor signs and graphics customized for the specific originality and identity of your one-of-a-kind business. If you dream of creating a 3-d look that certainly makes sure your brand is noticed, Westphal Signs can provide you with dimensional signs and lettering that best communicate your brand.
Durable Dimensional Letters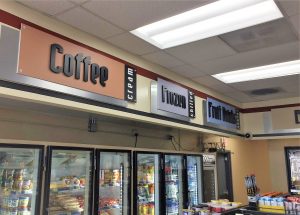 Westphal Signs manufactures dimensional letters from the right materials that best complement your branding and business. Depending on your needs, we will choose between light foam, metal, wood, and/or plastic for the primary media for your custom signage project.
An increasingly popular sign material, plastic is known as being incredibly versatile and includes acrylic, vinyl, PVC, and coroplast. The weather-resistance and hardiness of plastic lettering really makes it a terrific material choice for outdoor dimensional signs and graphics. For interior letters, metal is an exceptional option because of its stylish aesthetic, and is extremely durable when used outdoors. Metals commonly used for sign making include copper, brass, stainless steel, aluminum, and bronze. A popular choice for eye-catching, large-format letters, light foam may be selected since it is durable, thick, lightweight, and sturdy. We will assist you with picking the right commercial signage type and fabrication media to achieve your ideal finished look without breaking your budget allotment.
Full-Service Sign Company
Choosing the best sign for your corporate brand isn't easy. You will need research, time, patience, experience, and a effective production process. With Westphal Signs, you can be certain that you will never need to go through all of this by yourself. Our Dodge County, WI crew of qualified graphic artists and sign manufacturers are pleased to share their knowledge to guide you in the course of the sign development process.
Westphal Signs is your local signage provider. Our professionals produce designs, we support you in choosing the ideal materials for your business budget, needs, and purpose, and we make certain that your custom signage is strategically positioned. We are just a call away should you ever need any support or assistance with your custom dimensional signage.
Free Dimensional Letters Consultation
Westphal Signs provides virtually infinite personalization options for your brand marketing signage. If you want to lure more potential consumers to visit your facility, promote your corporate branding, or make make it easier for customers to navigate your space without help, our Dodge County dimensional letters, logos, and images are the perfect choice for your unique business needs.
Call Westphal Signs today at (920) 345-0102 for your Free Consultation with a Dimensional Letters Expert!